Ken Mayernik was born in Montana and raised on a central Montana ranch. He remembers growing up working cattle and doing farm work. Those roots in the agriculture and outdoors of Montana are evident in his sculpture. Bronzes depicting ranch scenes; the working and hunting people of the west are common in his volume of works.
Ken has created art all his life beginning as a young child, spending countless hours drawing and sketching. Involved with the animals and outdoors of Montana, Ken hunts, fishes and rides as much as possible and still helps occasionally at the family farm and ranch. Sculptures from miniature to monument communicate the outdoors, rural lifestyle and heritage…the essence of the western outdoor experience.
His own horses give Ken the knowledge of movement, gesture and anatomy. Horses are one of his most often used subjects. The wildlife seen and hunted for are inspiration for the same knowledge in his wildlife bronzes. Ken earned a bachelor's degree in fine art and taught high school art for a few years after college. His experience spending time in the Bob Marshall Wilderness packing and working on a trail crew also influence his subjects.
Ken's creative pursuits have evolved from those early ranch sketches to acceptance and participation in western art shows and auctions in the United States and Canada and a portfolio of work spanning decades. Many works are in private collections internationally, including the Leroy Strand collection at the C.M. Russell Museum in Great Falls, Montana.
Ken's bronzes have won various Best of Show, Juror's Choice, Collector's Choice and Artist's Choice recognitions. They have been chosen and commissioned for rodeo and chuck wagon racing trophies at the Calgary Stampede and as awards for the World Hereford Conference.
Even with decades of sculpting experience Ken continues to express his experiences and the western lifestyle through his bronzes. Many exciting ideas inspired by ranch work , horse trips, hunting or fishing experiences continue to drive his creativity.
Ken and his wife Jan live just outside of Great Falls, Montana.
To keep up with Ken, follow his blog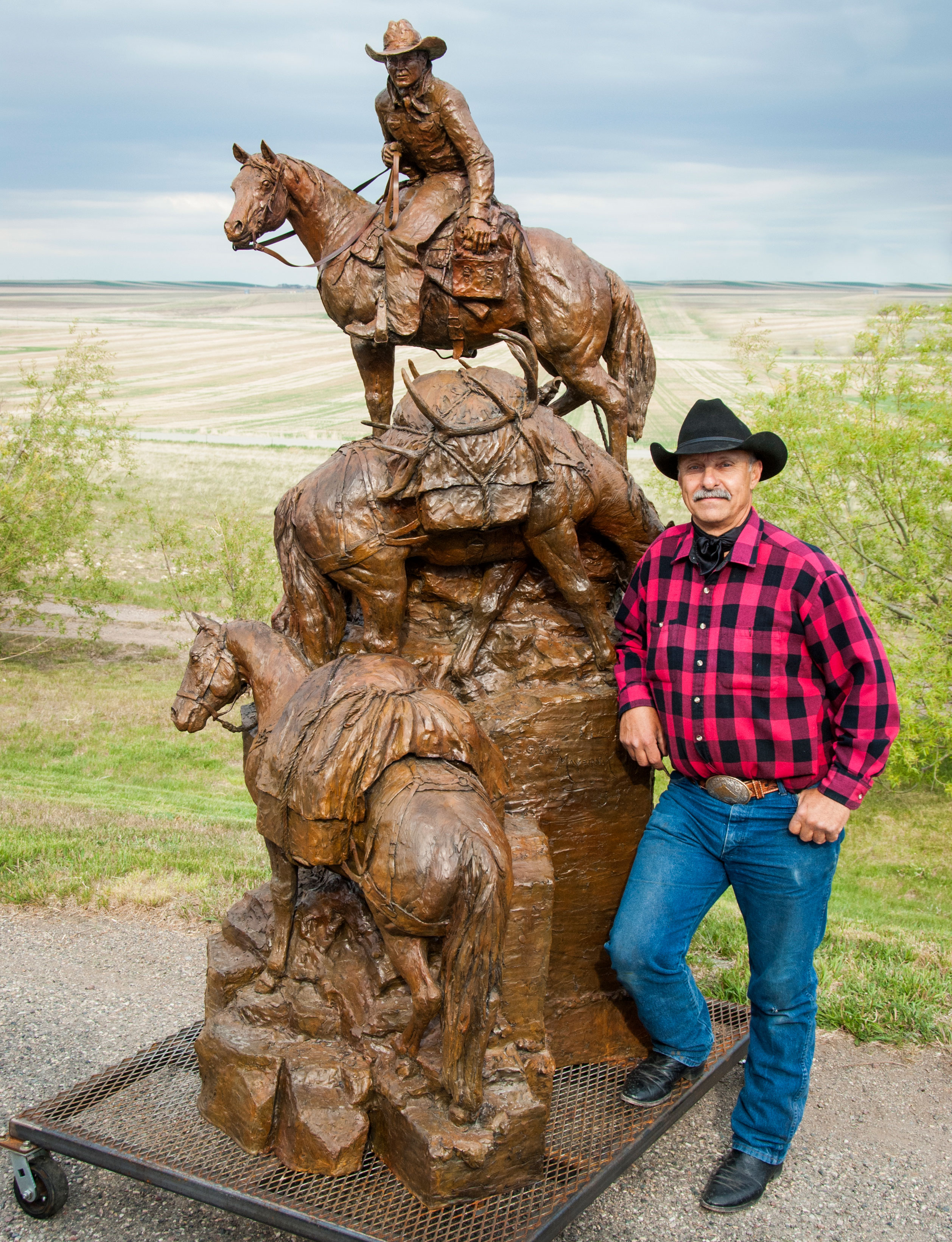 First and Third Place Bronze Sculpture
2015 – Windows to the West Art Show, Estes Park, CO

Sculpture Category Award
2009, 2010 – American Royal Western Art Show , Kansas City, KS

Best of Show Sculpture
2012 – Red Bluff Bull Sale Art Show, CA

Second Place Sculpture
2013 – Red Bluff Bull Sale Art Show, CA

Third Place Sculpture
2014 – Red Bluff Bull Sale Art Show, CA

Trophies
Chosen and commissioned to provide the bronze sculpture awards at the 16th World Hereford Conference in 2012.
Ken has participated in many western art shows and auctions throughout the United States and Canada.
2019
The Russell Auction, Convention Center, Civic Center, Great Falls, MT, March 23, 2019
Montana Masters Show at the Out West Art Show, Heritage Inn-Missouri Room, Great Falls, MT;  March20-23, 2019
Montana Miniatures Auction, Out West Art Show and Sale; Lewis and Clark Room, Heritage Inn, Great Falls, MT, March 20-23, 2019
Out West Art Show and Sale, Room 114, Heritage Inn, Great Falls, MT, March 20-23, 2019
Leroy Strand Collection,  C. M. Russell museum, Great Falls, MT
Montana Professional Artist's Association 15th Annual Art Show and Sale, Bitterroot River Inn, Hamilton, MT,  June 14-16, 2019
Sheridan Public Arts showing of "God's Country", Wells Fargo Bank; Sheridan, Wyoming; April 2019 (ongoing)
2018
The Russell Auction, Convention Center, Civic Center, Great Falls, MT, March 15-17, 2018
Montana Miniatures Auction, Out West Art Show and Sale; Lewis and Clark Room, Heritage Inn, Great Falls, MT, March 14-17, 2018
Out West Art Show and Sale, Room 114, Heritage Inn, Great Falls, MT, March 14-17, 2018
2017
Windows to the West Art Show and Sale, Estes Park Event Center, Estes Park, CO, June 2-4, 2017
The Russell Auction, Convention Center, Civic Center, Great Falls, MT, March 16-18, 2017
Montana Miniatures Auction, Out West Art Show and Sale; Lewis and Clark Room, Heritage Inn, Great Falls, MT, March 15-18, 2017
Out West Art Show and Sale, Room 114, Heritage Inn, Great Falls, MT, March 15-18, 2017
2016
Windows to the West Art Show, Estes Park Events Center, Estes Park, CO, June 3-5, 2016
Out West Art Show and Sale, Room114, Heritage Inn, Great Falls, MT,  March 16-19, 2016
2015
Windows to the West Art Show,  Estes Park, Colorado;  May 29-31, 2015
Out West Art Show and Sale, Room 114, Heritage Inn, Great Falls, MT;  March 18-21, 2015
2014
Calgary Stampede Western Art Show, BMO Center, Calgary Stampede Grounds, Calgary, Alberta, Canada; July 3-13, 2014
"God's Country" Premier Showing of large scale bronze;  Celtic Cowboy Restaurant, 116 1st. Ave S.,  Great Falls, MT; June 15-17, 2014
Western Masters Art Show and Sale,  Room 114,  Heritage Inn,  Great Falls, MT;  March 19-22, 2014
Red Bluff Bull and Gelding Sale Western Art Show,  Red Bluff, CA;  Jan. 28 to Feb. 1, 2014
2013
Calgary Stampede Western Art Show, BMO Center, Calgary Stampede Grounds, Calgary, Alberta, Canada;  July 4-14, 2013
Western Masters Art Show and Sale, Room 114, Heritage Inn, Great Falls, MT; March 13-16 ,2013
"Empire 100" Western Art Show and Sale, Northern Trust at 6444 E. Tanque Verde Rd., Tucson, AZ; Jan. 14- Feb. 28, 2013
Red Bluff Bull and Gelding Sale Western Art Show,  Red Bluff, CA;  Jan. 28 to Feb. 1, 2014
2012
Calgary Stampede Western Art Show, BMO Center, Calgary Stampede Grounds, Calgary, Alberta, Canada; July 5-15, 2012
Western Masters Art Show and Sale, Room 114, Heritage Inn, Great Falls, MT;  March 14-17, 2012
12th Annual "Empire 100" Western Art Show & Sale,  Northern Trust at 3450 E. Sunrise Dr., Tucson, AZ;  Jan. 9 to March 9, 2012
Red Bluff Bull and Gelding Sale Western Art Show,  Red Bluff, CA;  Jan. 28 to Feb. 1, 2012
2011
The Mountain Oyster Club's 42nd Annual Contemporary Western Art Show, Mountain Oyster Club, Tucson, AZ;  Nov. 20, 2011 to Jan. 7, 2012
Calgary Stampede Western Art Show, BMO Center, Calgary Stampede Grounds, Calgary, Alberta, Canada;  July 7-17, 2011
5the Annual Equine Boosters of MSU "Top of the West Performance Horse Sale and Derby Day Celebration", Copper Springs Ranch, Bozeman, MT; May 7, 2011
Western Spirit Art Show and Sale, Old West Museum, Cheyenne, WY;  March 5, to April 17, 2011
Western Masters Art Show and Sale, Room 114, Heritage Inn, Great Falls, MT;  March 16-19, 2011
Art Walk Meadow Village Center, Big Sky Meadow Village Center, Big Sky, MT;  Feb. 19, 2011
"Empire 100" Western Art Show and Sale, Northern Trust, Tucson, AZ;  Jan. 10 to March 10, 2011
2010
The Mountain Oyster Club Western Art Show, Tucson, AZ;  Nov. 2010 to Jan. 2011
American Royal Art Show and Sale, American Royal Complex, Kansas City, MO; Sept. 23-25, 2010
Calgary Stampede Western Art Show and Auction, BMO Center, Calgary Stampede Grounds, Calgary, Alberta, Canada;  July 8-18, 2010
Western Art Roundup Exhibit, Custer County Art and Heritage Center, Miles City, MT;  May 2 to June 20, 2010
The Mountain Oyster Club Western Art Show, Tucson, AZ;  Nov. 22, 2009 to Jan.2, 2010
"Empire 100" Western Art Show and Sale, Northern Trust, Tucson, AZ;  Jan 11 to March 12, 2010
C.M. Russell Art Show and Auction, Heritage Inn, Room 220, Great Falls, MT;  March 17-20, 2010
2009
Masters in Miniature;  C.M. Russell Museum,  Great Falls, MT;  June-Sept. Sale; Sept 12, 2009